Welcome to Western Life!
After 20 years as Backcountry Utah, Western Life opens a new chapter in Recreation and Western Lifestyle Programming.
We are Your Source for outdoor information, Self Reliance, Preparedness, and a wide variety of recreational activities throughout the West.
Along with the latest outdoor news, Western Life Radio features a wide array of outdoor topics, ranging from hunting , fishing and camping to hiking, skiing and horseback riding. Local events and activities are promoted, tips and ideas are shared, and weekend getaways are suggested.
Whether you enjoy birdwatching or waterskiing, Outdoor Cooking or ATV riding, Western Life Radio has something for you.
In conjunction with a varitey of outdoor agencies, non profit groups and contributing sponsors, Western Life promotes safe and ethical recreational opportunities that the West provides. New outdoor products are discussed and local conservation organizations are interviewed.
Western Life discusses ethics, responsibilities, and opportunities. Host, Brian Brinkerhoff, discusses outdoor topics in a casual, around-the-campfire atmosphere, that many members of our target audience enjoy.
Each program covers a wide range of topics covering hunting to fishing, hiking to mountain biking, hang gliding to scuba diving and the programming caters to an audience ranging from beginners to experts. Each program is filled with tips and ideas for outdoor recreationists.
Getaways and escapes discussed on the program range from the popular sites along the Wasatch Front to the forgotten, remote corners of the state. The West is filled with many opportunities. It is our hope to instill an appreciation of our vast, but not unlimited outdoor resources.
PRODUCER/REPORTER/ PHOTOGRAPHER:REBECCA BRINKERHOFF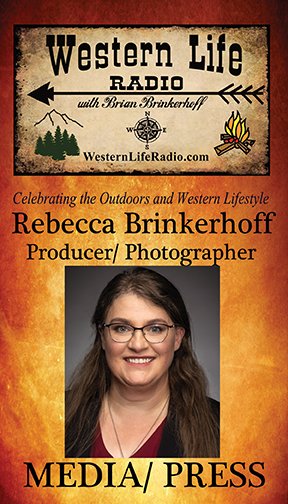 Rebecca reports on various topics, including gear, destinations, family activities, preparedness, outdoor cooking, and safety.
In addition, Becky can also help you with advertising to promote your outdor related event or business. Send her an E-mail
Western Life now broadcasts on 97.5 FM the KZNS, 1280 the KZNS, 960 AM the ZONE(KOVO), ESPN 700 AM KALL, 1370 AM KSOP, 860 AM KKAT, AM 630 KTKK in Salt Lake City, 1340 AM KTMP in Heber, 750 AM KOAL in Price, 97.1 FM KCYN in Moab and 1490 AM KCPX in Spanish Valley, bringing the best of the outdoors to it's listeners.
Western Life broadcasts on a variety of station formats from sports and talk to country music, reaching large audiences that enjoy outdoor recreation and Western Living. It broadcasts 7 days a week including twice during drivetime, a midweek overdrive edition and weekend editions.
Listen to our Programming
You can find Western Life Radio on several fine stations throughout Utah. To find a station near you, visit the Network Site
Listen to our Daily Drivetime Segments
Monday-Friday
KCYN 97.1 FM in Moab 8:40 am and 4:50 pm
KOAL 750 AM in Price 7:30 am and 4:30 pm
KKAT 860 AM in SLC 8:45 am and 4:15 pm
KTMP 1340 AM in Heber 7:55 am and 3:55 pm
KSOP 1370 AM in SLC Mornings/Afternoon
KCPX 1490 AM in Moab 7:40 am and 4:40 pm
Listen to our Two Hour Overdrive Live Segments
Wednesday Evenings
KZNS 97.5 FM in Salt Lake City 7:00-9:00 pm
KOVO 960 AM in Salt Lake City 7:00-9:00 pm
KZNS 1280 AM in Salt Lake City 7:00-9:00 pm
KCPX 1490 AM in Moab 7:00-9:00 pm
Listen to the Saturday Weekend Edition
Saturdays
KTKK 630 AM in Salt Lake 1:00 -2:00 pm
KALL 700 AM in Salt Lake City 8:00-9:00 am
KKAT 860 AM in SLC 10:00-11:00 am
KSOP 1370 AM in SLC
KCPX 1490 AM in Moab 10:00 -11:00 am


Listen to the Sunday Weekend Edition
Sundays
KCYN 97.1 FM in Moab 8:00 - 9:00 am
KALL 700 AM in Salt Lake City 9:00-10:00 am
KKAT 860 AM in SLC 10:00-11:00 am
KSOP 1370 FM in SLC